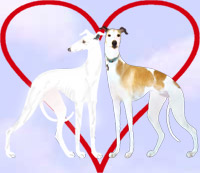 Welcome to Joey's Website!!! Please visit our "Adoptables" and "Special Needs" pages and help these beautiful animals find new, loving homes and families.


We Have New Dogs In

7-12-2011
See Adoptables
---
SUNNY CROCKETT, MINNIE MOUSE AND CASEY NEED YOUR HELP!
mini vape

6/18/2011
THIS IS TO ALL OUR FELLOW GREYHOUND FRIENDS AND SUPPORTERS-
WE ARE IN DESPERATE NEED OF DONATIONS AND FINANCIAL SUPPORT FOR 3 PRECIOUS GREYHOUNDS WHO HAVE CHANGED AND STILL ARE CHANGING OUR LIVES AND, HOPEFULLY, THE LIFES OF YOU-
DUE TO THE BAD ECONOMICAL TIMES WE LIVE IN, DONATIONS HAVE NEARLY COMPLETELY TRIED UP- WE DO UNDERSTAND, WE ALL SEEM TO LIVE FROM PAY CHECK TO PAY CHECK AND BARELY MAKE ENDS MEET.HOWEVER, THIS CANNOT KEEP US FROM TAKING IN GREYHOUNDS WITH SPECIAL NEEDS, GREYHOUNDS WITH BROKEN LEGS (WE ARE ALL VERY HAPPY TO HAVE SUNNY IN OUR GROUP AND KNOW CASEY AND MINNIE ARE TAKING CARE OFF).
WE DO UNDERSTAND THAT THERE ARE NOT MANY PEOPLE OUT THERE WHO CAN PAY THE HIGH COSTS FOR ORTHOPEDIC SURGERY ON SUNNY CROCKETT'S BADLY BROKEN LEG, BUT ANY DOLLAR AMOUNT COUNTS.
ALSO WE THOUGHT OR WANT TO PUT THIS IDEA OUT TO ALL OF YOU TO MAYBE SPONSOR OR PART SPONSOR OUR TWO SENIORS, MINNIE MOUSE AND CASEY. THEIR SUPPLEMENTS RUN US $ 40.00 A MONTH, THE MEDICINE RUNS AROUND THE SAME FOR EACH OF THEM (COMPOUNDED CALCIUM AND PAINKILLERS). WE HAVE SEEN SUCH AN IMPROVEMENT AND ZEST FOR LIFE IN THESE TWO OLD GIRLS, WE JUST CANNOT TURN AWAY OR WITHOULD SUPPL. OR MEDICINE THAT REALLY WORKS.
MAYBE YOU COULD SPONSOR ONE MEDICINE ITEM FOR ONE OF THEM? OR MAYBE YOU COULD GET TOGETHER WITH ANOTHER GREYHOUND FRIEND OR FAMILY MEMBER AND SPONSOR THE MONTHLY SUPPLEMENTS?
ANY DOLLAR WILL HELP, THERE IS NO DONATION TOO SMALL OR TOO BIG-AND REMEMBER, IT IS A TAX WRITE OFF AS WELL.
IF YOU WANT TO GET TO KNOW THE 3 IN DESPERATE NEED FOR YOUR SUPPORT, PLEASE CHECK THEM OUT ON OUR ADOPTABLE AND OLDIES PAGE.

THANK YOU FOR YOUR TIME READING THIS AND YOUR KINDESS CONSIDERING HELPING THEM FINANCIALLY-

JOEY'S GREYHOUND FRIENDS, INC.
---
Joey's Greyhound Friends Inc. was initially founded to rescue those retired greyhounds who were either too slow or injured from the Naples/Ft. Myers, Florida racetrack. There are currently 12 active racing kennels at this racetrack with a large number of greyhounds in need of loving and responsible homes.
This ever present need keeps us working diligently and tirelessly in organizing pet runs and adoption hauls to reputable organizations out of state as well as finding caring families to adopt locally.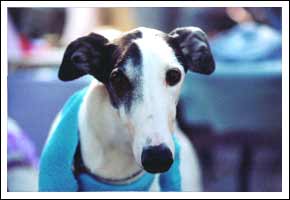 Our staff of volunteers have a close working relationship with several local veterinarians, law enforcement agencies, civic organizations, animal shelters and the Humane Society. We also specialize in finding groups and caring individuals who are willing to open their hearts and homes to old brood mamas and old stud dogs, who deserve to live out their remaining years in the comfort of soft and warm beds, surrounded by love and kindness. Regardless of their previous history or present circumstances, no needy greyhound is refused and all are treated with the love and respect that we all deserve.
We welcome everyone who visits our website and hope you will enjoy reading about these magnificent greyhounds that captivated the hearts of Kings and Noblemen, just as we hope they will captivate your heart as well.
~ Our Mission Statement ~
Joey's Greyhound Friends, Inc. is dedicated to finding permanent, loving and responsible homes for greyhounds that are lucky enough to enter the rescue community after their short racing career is over, due to injuries or just being too slow to make money for their owners. We also work on promoting public awareness about racing greyhounds.

Joey's Greyhound Friends, Inc. pledges to all greyhounds that no matter how old, how sick, what color, what sex or from where he/she came from, a greyhound in need is a greyhound we want to help.